Are you suffering from low quality audio from videos from Youtube, Dailymotion,Vimeo and video hosting sites that you use with your Google Chrome browser? Are you having a difficult experience hearing the sound effects and music of a browser game you play on facebook?
Are you having a hard time listening to audio files you needed for your transcription jobs like transcribe and Call categorizing jobs like Humanatic? Are you frustrated that even though you maxed out your volume on your speaker or headset you barely hear the songs from Soundcloud?
I know what is the solution to this simple problem! Wether you use it for entertainment purposes or for work, This simple app is going to be a great help as long as you are a user of Google Chrome.
Audio EQ is a PC Google Chrome app for everyone that plays audios and videos. If you are experiencing problems like low sound volume on the digital files you play with Chrome, this free and safe app will solve all your worries. This app works well with both headsets and speakers. It is so easy to use that even a first grader will be able to use it with flying colors and ease.
How to install Audio EQ?
Installing Audio EQ is very easy that all you needed are 3 simple steps.
1. Simply search Audio EQ on your trusty search engine of choice and once you see the website of Audio EQ click it. As shown on the picture below: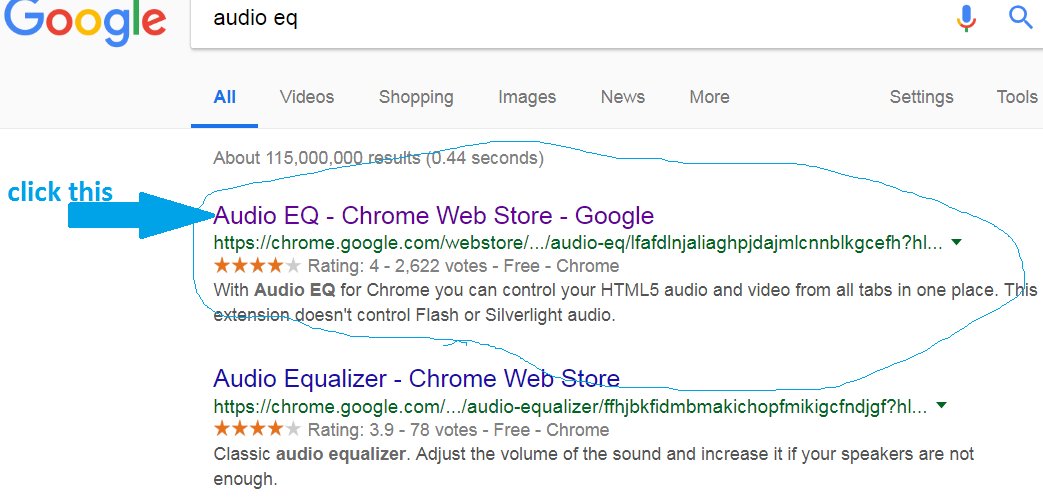 2. Once you clicked the link to the site, You will be directed to the app's page where the description and features of the app is explained through a short paragraph. Click the add to chrome button.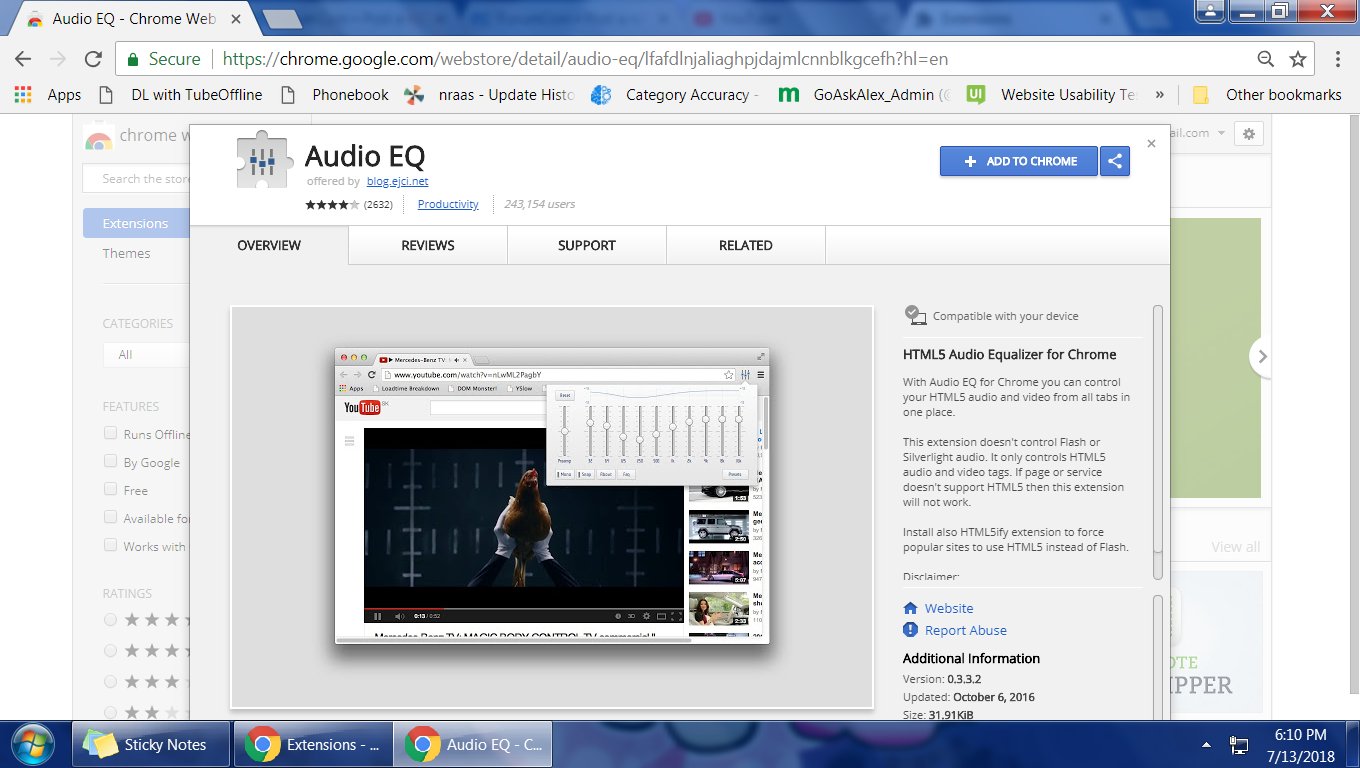 3. Once you clicked the add to chrome button, A small notification box will appear and it is going to ask you to add Audio EQ. Click the add extension button and in just few seconds the app is installed on Google Chrome.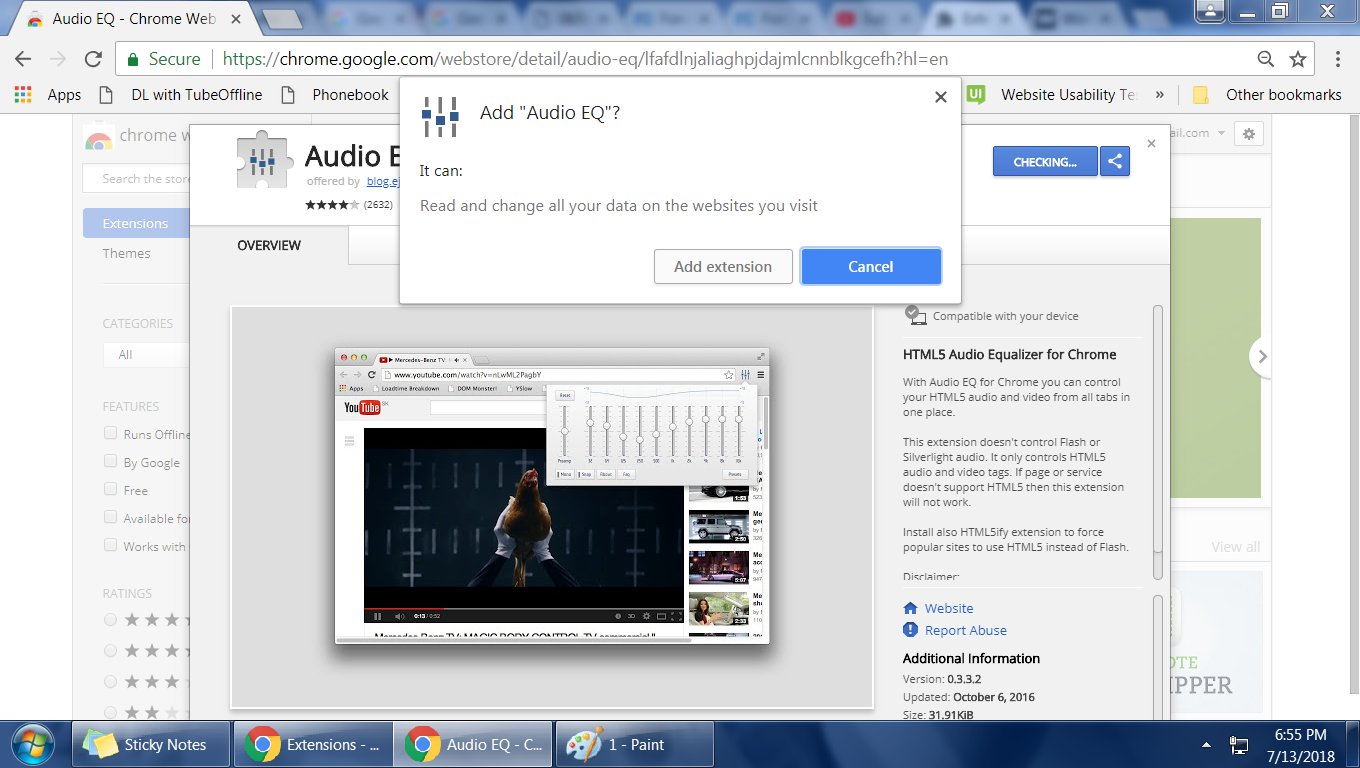 ---------------
After installing the app, Here is a tutorial on how to use the app. I use Youtube as an example but it works for all the websites that uses audio files. This short tutorial is easy to learn and you will be guided by some screen shots.
How to Use Audio EQ
1. The first step is to play the media with the audio you wanted to listen to. On the screenshot below I am watching a documentary by the Futurist Isaac Arthur. He makes wonderful documentaries about the future but I am having hard time to hear what he says.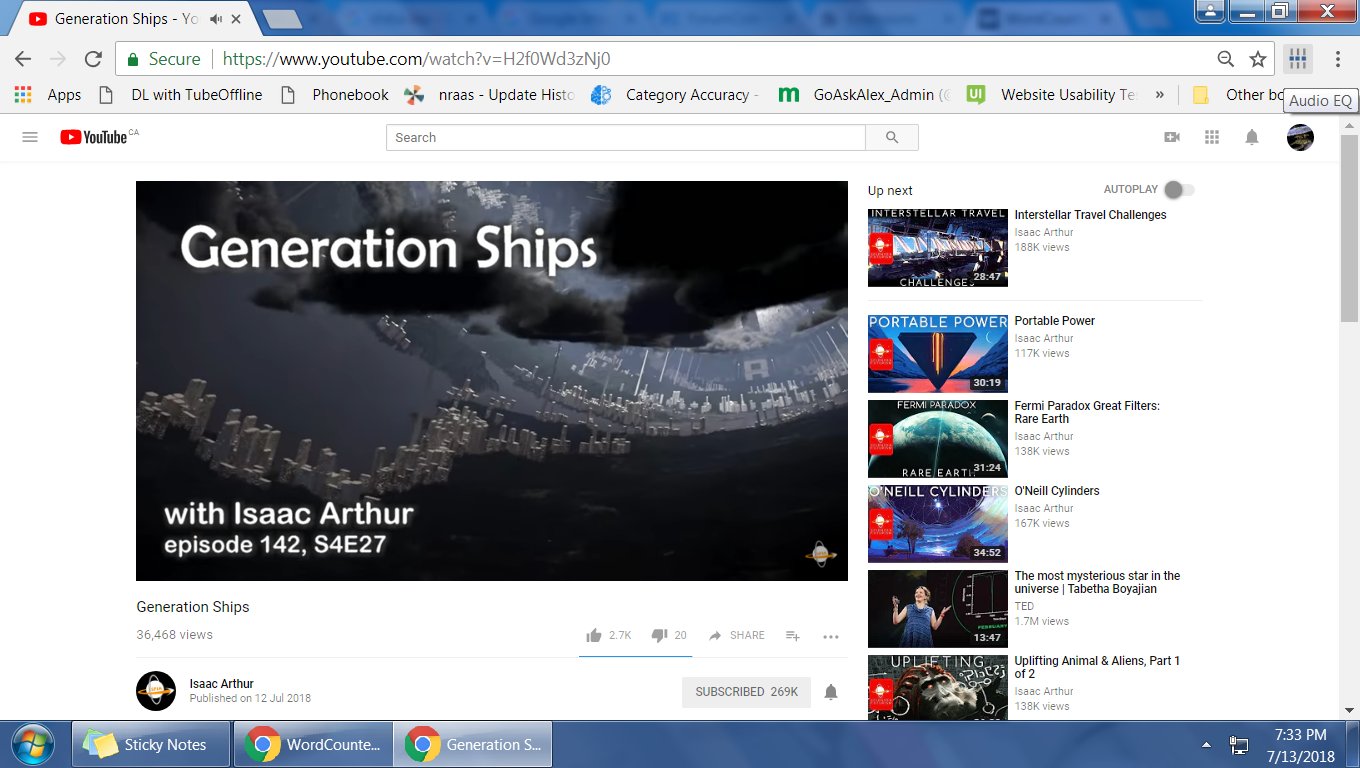 2. Once the video starts playing, I click the icon of Audio EQ.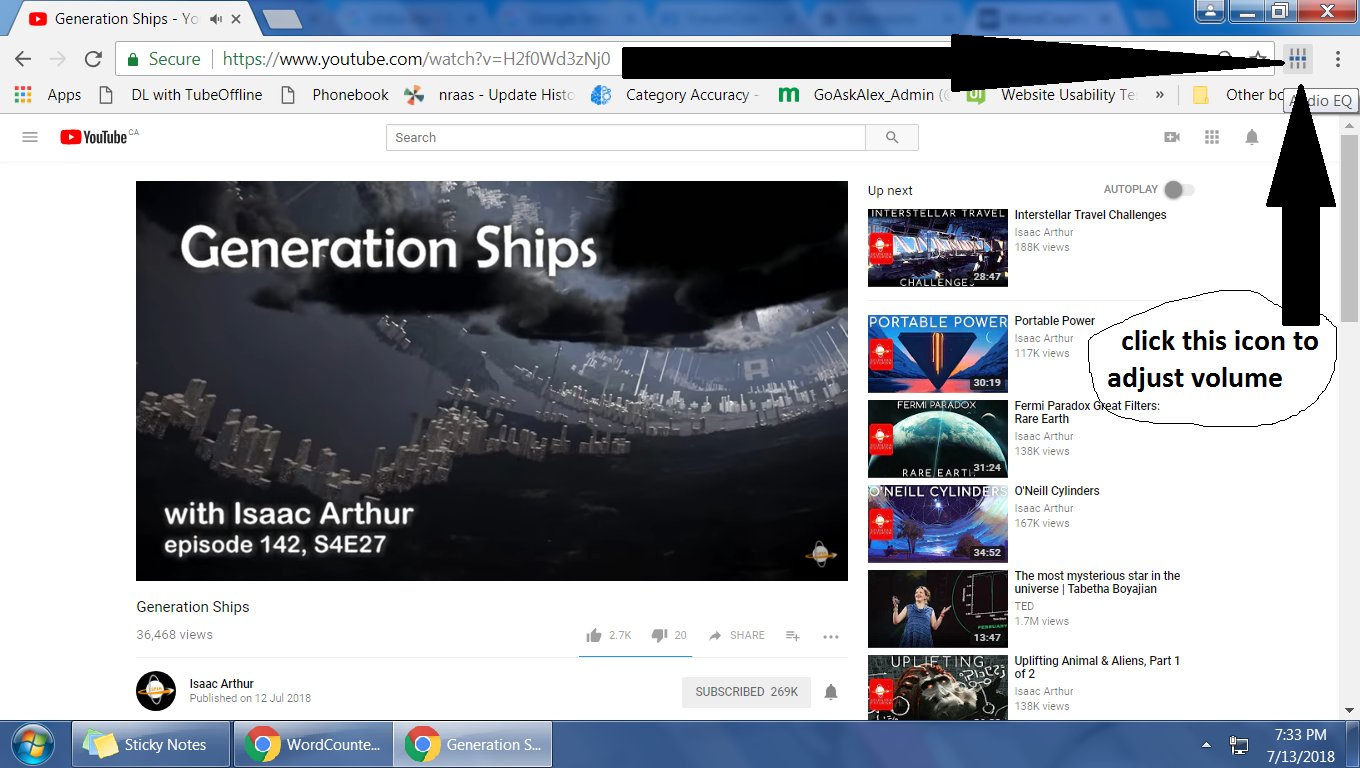 3. A small box with tuning sliders will appear that you can adjust by your liking. It may look complicated but the only sliding scroll you should use to adjust the sound is the Pre-amp button. You can either slide it up or down. You can hear the audio increase or decrease
according to your liking.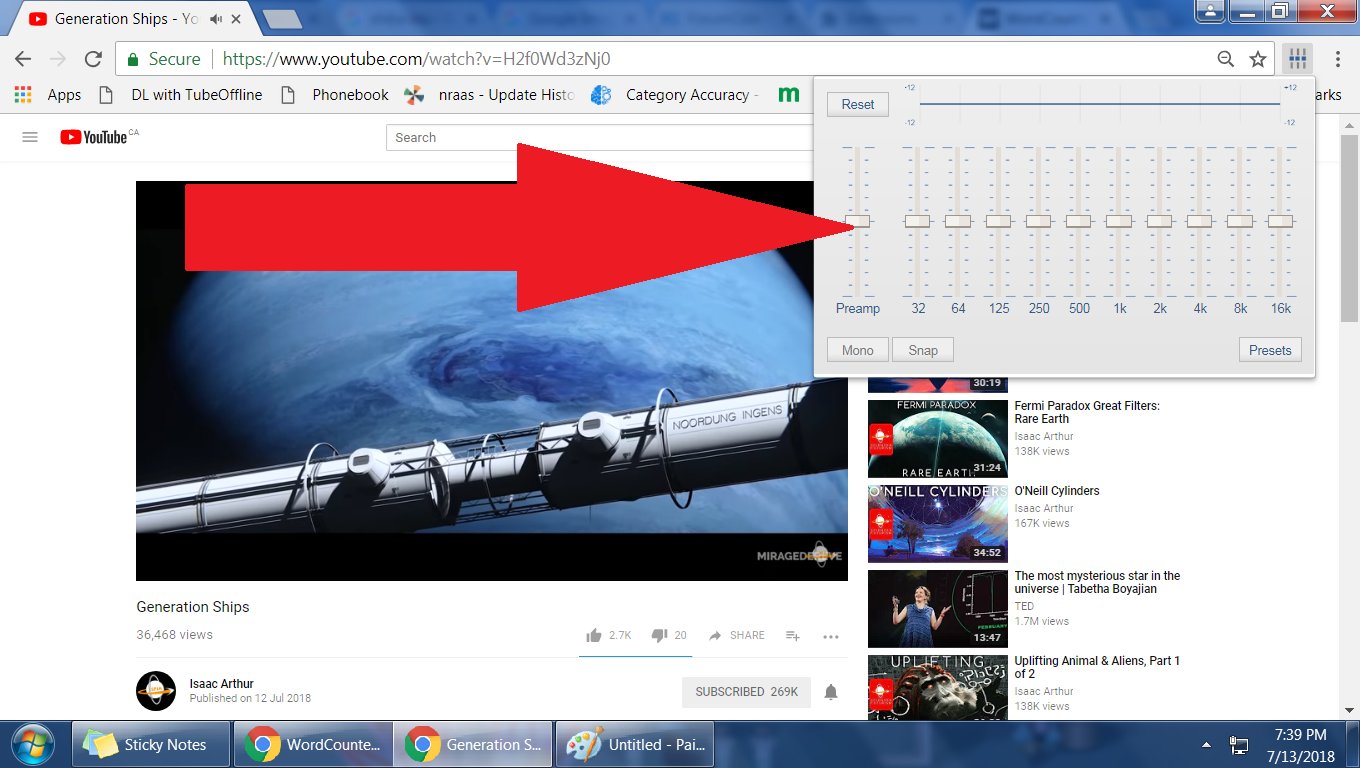 Audio EQ changed my experience with sounds on my Google Chrome Browser. The sound is crisp and clear that I adjust my volume down because it can make all videos and audio online louder.